When you travel, what kinds of souvenirs do you like to bri
ng home for yourself?
I collect shot glasses. My collection is low. A college dorm isn't the best place for shot glasses. A few have been broken. Fallen off tables and things like that. (my shot glasses are cooler than those-->)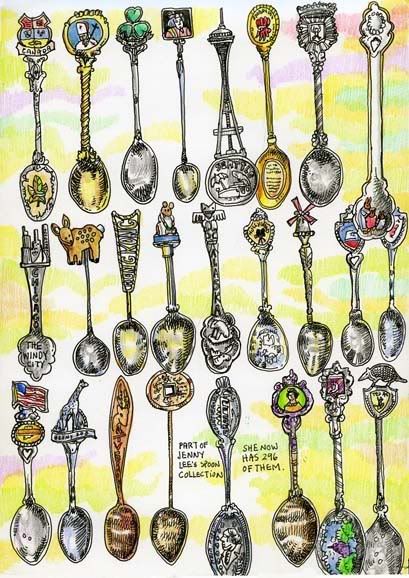 Is there a certain kind of souvenir you always bring back for a
particular someone?
I always bring Tiffasaurus Rex a spoon. That's her thing. Spoons. Yeah, we're in to dining souvenirs, right?
Of the souvenirs you've collected from your travels, what are some that have special m
e
aning for you?
I don't actually thing have anything too special. Isn't that sad? Oh wait! I have Rocky the Trilobite. He is a good friend of mine. I am teaching him to tell riddles so he can trick people at parties. (P.S. He is much more attractive than the trilobite in that photo, but he is a little camera shy...)
What's the silliest souvenir you've brought back for
yourself, or what's the silliest souvenir someone has brought back for you?
Someone once brought me some Kindereggs from Germany! I was so happy because I loved them as a child. They have fun tiny toys inside.
If you were going to send someone a souvenir from places you visited today, what might it be?
I could see if there were spoons in the BAC gift shop (there aren't). Or I could go downtown Belmont and find something funky. I bet there is a gift shop in Belmont that has spoons. Or shot glasses.
Play with us!